by Neil Bauman, Ph.D.
August 22, 2016
Williams Sound has done it again. They have improved the venerable PockeTalker that so many hard of hearing people have used and loved over the years. The result is the new PockeTalker 2.0.
What's not to love? I gave the PockeTalker 2.0 a real workout during the Hearing Loss Association Convention in Washington, DC in June, 2016. Boy, was I impressed!
As a loop receiver, the PockeTalker 2.0 is superb. And it works great with its built-in microphone when used as a personal communicator (just like the previous PockeTalkers did).
The new PockeTalker 2.0 has about the same power output as did the two preceding models—the Pro and the Ultra—or perhaps it has even a bit more power. As I did with the previous models, I only set the volume control less than half way and that gives me lots of volume to overcome my severe hearing loss. This means there is plenty of reserve power should I (you) ever need it.
The PockeTalker 2.0 is still an analog device. This is in contrast to most other personal amplifiers. Too many manufacturers make this sound like it is a bad thing—that it is old technology. True, it is old technology—but so are wheels—yet we use them because they work! Thus, the fact that the PockeTalker 2.0 is analog is not a bad thing. In fact, it's a good thing. Here's why.
Numbers of elderly people have difficulty understanding digital devices. They much prefer analog devices. If this is your situation, you're going to love the PockeTalker 2.0. It gives you natural, analog sound.
Furthermore, because the PockeTalker 2.0 is still analog rather than digital, it is instant on. You don't have to wait 2 or 3 seconds for it to boot up before you can use it. And all the settings are where you left them. They don't reboot to some default setting that you have to change every time you use it.
Like the previous models, the on-off switch is integrated into the volume control wheel so you can turn it on and set the volume all in one fluid movement.
Since it is an analog device, it has continuous (not step-wise) volume and tone controls. This means  you can adjust the volume and tone exactly the way you want. In contrast, with digital devices, the volume goes up in preset steps. If you have recruitment (or hyperacusis), you may find one step is just a bit too soft, yet when you step it up one more step, it is now too loud as your recruitment kicks in.
This is never a problem with the PockeTalker 2.0. If you want to turn it up just a smidgen, you can. And if you have a reverse slope loss like I have, I've found that precise tone is critical to understanding a given person's speech. The standard digital four-step tone controls just don't cut it. One is too low, but the next step up is too high. With the PockeTalker 2.0, you can make minuscule changes in tone to suit your ears.
What's New with the PockeTalker 2.0?
The PockeTalker 2.0 comes with a number of new features that I think you will love.
 1.  Ergonomic design. The PockeTalker 2.0 has a sleek new look that is ergonomically-shaped to fit comfortably in your hand when you choose to hold it. The on-off switch/volume control is right where your thumb can easily control it.
2.  T-coil (telecoil). If you don't wear hearing aids and want to hear in a looped venue, the PockeTalker 2.0 is just what you need because it now contains a t-coil. Whenever you are in a looped area, just push the M-T switch on the left side up to the "T" position and instantly you'll hear beautiful, clear sound via its powerful t-coil. And this t-coil is powerful. It works even better than my Comfort Duett personal amplifier with built-in t-coil that I used to use in looped venues. The PockeTalker 2.0 blew the Duett out of the water so to speak. For example, in order to hear with the Comfort Duett, I need to have the volume pretty much maxed out, whereas I only needed about half volume when using the PockeTalker 2.0. That's the difference. This leaves you with plenty of reserve power for softer speakers or inadequate loop systems that you sometimes encounter. When it t-coil mode, a green light above the MT switch lights to indicate you are in t-coil mode.
3.  Balance Control. The PockeTalker 2.0 has a screwdriver-adjustable balance control so you can set the balance so both ears hear at their optimal levels. This is something I've wanted for a long time for those of us who have different hearing in each ear.  Now you can set the balance so the sound seems to be the same level in both ears. No more setting the volume just right for your better ear and then finding you can't quite hear with your worse ear, Or conversely, setting the volume just right for your worse ear and finding you are now blasting your better ear.
You just need to set the balance control once and then forget about it. After that, you simply control the overall volume with the volume control and both your ears will be happy.
The PockeTalker 2.0 comes with the balance preset in the middle for the majority of people who have more or less the same hearing loss in both ears. If this fits you, then you don't have to do anything. Just leave the balance control centered.
Note: the balance control is tucked safely away at the top of the battery compartment. You need to remove the battery compartment cover to access it. Also note, you will need a small screwdriver to adjust it.
4.  Stereo Earphone Jack. Finally, Williams is catching up with everyone else and using a stereo jack on their new PockeTalker 2.0. This means you can use your favorite ear buds or headphones (if, for some reason, you don't like the ones Williams Sound includes) without having to use a stereo to mono adapter. Previously if you didn't use this adapter, you only heard in one ear. To be sure, the new PockeTalker 2.0 is still a mono device, but now when using stereo ear buds, you will hear in both ears without an adapter.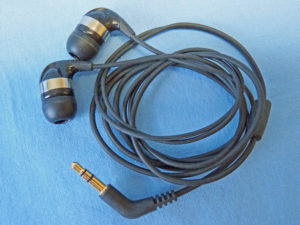 One thing to remember whenever you are using a neckloop that has a stereo plug, make sure you center the balance control. (Note: Williams new neckloop is wired with a stereo plug.) However, when using a neckloop, ear buds or headphones that come with a mono plug (fortunately, these are all going the way of the Dodo bird), set the balance control all the way to the left. Doing this will give you maximum performance and extend the battery life.  (Be aware that with mono neckloops, ear buds or headphones, the balance control won't work to balance your hearing. because of the way they are wired. That's just the nature of these devices.) This is a good reason to use ear buds, etc. with stereo plugs.
Incidentally, the PockeTalker 2.0 comes with both stereo ear buds and stereo headphones, rather than just one or the other.  So use whichever one turns your crank at the time, or use your own favorite ones if you so desire.
Be aware that the new ear buds that come with the PockeTalker 2.0 have a lot of bass (in my opinion). Thus, initially, you probably want the tone control set in the middle (white dot). Then you can turn the bass or treble up or down to suit your hearing.
5.  Built-in Microphone. The PockeTalker 2.0 comes with a convenient, built-in microphone. This means you don't have a microphone sticking out if you don't need it. (You still get the external microphone that plugged into the microphone jack.) I
found that the built-in microphone gives the same sound quality as the external microphone.
The external microphone jack is still there so you can plug in any external microphone–just like you could on previous PockeTalker models. When you plug in an external microphone, it cuts out the internal microphone.
6.  Rechargeable Battery Option. Just like the previous model, the PockeTalker 2.0 uses two regular alkaline AAA batteries. However, you now have the option of using rechargeable nickel metal hydride (NiMH) AAA batteries instead. A cool feature of using rechargeable batteries is that you don't have to open the battery compartment and put them in a charger. You simply plug the charger cord into the recharging jack that is in the middle of the right side. (This makes it easier for you if you have trouble opening the battery compartment door to replace used batteries.) A red light above the jack comes on to indicate it is charging.
Note: There is a recessed switch in the battery compartment that you need to switch to either ALK (alkaline) or NiMH (nickel metal hydride) depending on which batteries you are using. If you are changing from alkaline batteries to rechargeable batteries (or vice versa) you need to set the internal battery switch appropriately each time. Since this switch is deeply recessed at the top left corner of the battery compartment, you'll need to use a small screwdriver or the tip of a pen or pencil to switch from one position to the other.
Typically, you'll use one kind of battery or the other so you'll only have to set it once and then forget about it. But if in a pinch you ever change from rechargeable to alkaline batteries—don't forget—reset the switch when you change batteries.
7.  Volume Control on Front. One of the things I didn't like about the previous PockeTalker was that the volume control and the tone control were identical but on opposite sides of the unit. It was far too easy to adjust the tone thinking you were adjusting the volume. With the PockeTalker 2.0, this is a thing of the past. The volume control is on the upper front center so you can't mix it up with the tone control which is recessed into the lights whenever the PockeTalker 2.0 is turned on (assuming the batteries are good).
8.  Pocket/Belt Clip. The PockeTalker 2.0 has a smooth, flat pocket (or belt) clip—not the gawky removable one that came with the PockeTalker Ultra. This clip is always there if you need it, but doesn't get in the way if you aren't using it.
What Would I Change About the New PockeTalker 2.0
Nothing is perfect. There is always something that can be improved. The PockeTalker 2.0 is no exception. However, there are only three things I would improve—and they are all relatively minor changes.
 1.  If you have the balance control set off center, then you need to remember to put the left ear bud in your left ear and the right one in your right ear. But which ear bud is which? At the base of each ear bud is a tiny (and I mean tiny) "L" or "R". However, if you have older eyes, you'll not even see them without a magnifying glass.
The "L" and "R" need to be much bigger. To make it easy to determine which is which, they need to put a dab of color (nail polish works) on each earbud— blue for the left ear and red for the right ear—the same color scheme as is used on your audiogram. (It's easy to remember which ear is which if you remember the "R" rule—"Right ear is Red".) This only matters if you have uneven hearing in both your ears so you need the balance set off center. If you leave the balance control centered (both of your ears hear the same) then it really doesn't matter which ear bud goes in which ear. In the meantime, as a work-around, you can put a dab of blue and pink or red nail polish on the appropriate ear buds.
2.  The second thing I'd change is the bottom of the PockeTalker. The new one is slanted so you can't stand the PockeTalker on a table or desk. Why is this important? Glad you asked.
The bottom is slanted for ease in threading the lanyard through the hole at the bottom so you can wear it around your neck. The problem is, by slanting the bottom, you can't stand the PockeTalker 2.0 on a desk or table. This can be necessary if you are using the PockeTalker 2.0 as a loop receiver and aren't wearing it on its lanyard around your neck. (This is something I often do.) Since the t-coil in the PockeTalker is oriented vertically (which is the correct orientation), laying the PockeTalker 2.0 down puts the t-coil in the null for picking up a room loop signal. The result is that you wouldn't hear much at all. It needs to be vertical for good signal transfer from the loop to the PockeTalker. (If you were wearing the PockeTalker on a lanyard around your neck, this isn't an issue.)
3.  Finally, it would have been nice if they had provided a tiny screwdriver to fit the balance control and for flipping the battery switch.
_______________________
Incidentally, I was at a Williams Sound focus session some years ago when they were redesigning the old PockeTalker Pro to be the PockeTalker Ultra. At that time I made a number of recommendations—all of which they rejected. However, I notice that they have included all of these recommendations in the new PockeTalker 2.0, so I feel vindicated.
Getting a PockeTalker 2.0 for Yourself
By now you are wondering, "What is the price of this little 'paragon of virtue'?" Williams Sound has set the price of the new PockeTalker 2.0  at $189.00. This is both the manufacturer's suggested retail price (MSR), and also the minimum advertised price (MAP) allowed. This means no one can legally advertise the PockeTalker 2.0 for less than $189.00. (However, a vendor can sell them for less if they choose to do so—they just can't advertise them for less than the MAP price.)
Click here to order one of these wonderful PockeTalkers for yourself or a loved one. You get everything shown in this picture. And if you want a pleasant surprise, enter the code "surprise" in the Coupon Code box in the shopping cart at checkout and click "Apply" and that is exactly what you'll get—a pleasant surprise.