by Neil Bauman, Ph.D.
© November, 2020
Over the years, numbers of people have asked me,
Where can I find an affordable hearing aid? They all cost so much, and I'm on a limited income. Can you help me?
Typically hearing aids are expensive, ranging from around $800.00 at the low end, and on up to $3,000 or $4,000 each for high-end models. Such aids are out of the reach of those with severely limited incomes.
I've written about sources of help for purchasing hearing aids before, but even some sources of help require the person to put up hundreds of dollars as their "share" of the cost, and even this may be too much for some people to handle.
Ten years ago, I wrote about MDHearingAid, a then fledgling hearing aid company that had as its goal to make quality, inexpensive hearing aids for people who couldn't afford expensive ones. When people have asked me where they can get quality, inexpensive hearing aids, I've often referred them to MDHearingAid.
Now, ten years later, MDHearingAid has grown to be one of the largest on-line hearing aid companies. Their growth has been impressive—a testament to the quality and low prices of their hearing aids.
The folks at MDHearingAid "believe that choosing the right hearing aid should be simple, convenient and affordable". By manufacturing their own hearing aids and selling them direct to you, they can provide "hearing aids that are just as good as the bigger manufacturers, but within your budget".
Nor are their hearing aids cheap PSAP (Personal Sound Amplification Products) or OTC (Over-The-Counter) hearing aids. They are quality, FDA-registered hearing aids that are significantly less expensive than other true hearing aids.
If you don't know whether your hearing loss is bad enough that you need hearing aids, that's easy enough to fix. The MDHearingAid website has an excellent, free, on-line hearing test you can take in the privacy of your own home. All you need is your computer, tablet or cell phone, a pair of earbuds to plug into them and less than 10 minutes of your time. Once you have finished the test, you can instantly see a graph showing your hearing loss by frequency.
MDHearingAids are not for everyone. In order to keep prices down, they do not have all the customizable "bells and whistles" that high-priced hearing aids have, so if you want "bells and whistles" and total customization, you'll have to look elsewhere. Also, if you have a severe or greater hearing loss, you'll probably find these hearing aids don't have the power you need.
One thing I'm not too happy about these hearing aids is that none of them have t-coils so that you can hear beautiful clear sound when you are in venues that have a hearing loop installed. I wish they had not taken the t-coils out in their current models.
Note: If you want tiny, invisible hearing aids you'll also have to look elsewhere. The purpose of hearing aids is to help you hear better, not to be invisible. To keep prices down, and make useful hearing aids that is easy for arthritic fingers to handle, and big enough for poor eyes to see (so you don't lose them), all MDHearingAids are behind-the-ear (BTE) models. Even so, they use thin tube technology and clear domes so they are unobtrusive and many people won't even notice you are wearing these hearing aids.
Although MDHearingAids are not preprogrammed for your specific hearing loss, the good news is that MDHearingAid designed their hearing aids to fit the most common type of hearing loss—the typical high-frequency hearing loss that affects around 80% of hard of hearing people. Thus there is an excellent chance that one of their hearing aids will work well for you. In case you are interested, this kind of hearing loss is often called a ski-slope loss due to its shape as shown on an audiogram.
Currently you have four different MDHearingAid models of hearing aids with different features from which to choose—the PRO, AIR, VOLT+ and CORE.
The PRO: The PRO is the least expensive MDHearingAid. At only $199, it certainly won't break the bank! Furthermore, it is one of the few analog hearing aids that are still made. This is great for those people who love the highly-natural sound of analog hearing aids.
I've run into numbers of seniors that complain they can't understand digital aids very well and wish they could find analog aids. If you're one of those people that find digital aids don't work well for you, the PRO may be the aid you want.
The AIR: The AIR uses advanced digital technology in order to deliver high-quality sound. It uses noise-reduction technology so you can hear better in noisy situations. Furthermore, it has 4 program settings for use in quiet, social and noisy environments. It also has feedback cancellation so your hearing aids won't make that annoying squealing sound some hearing aids emit when the ear tips don't fit tightly. This is a very popular hearing aid.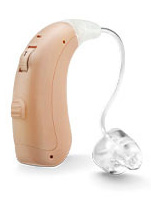 The VOLT+: The VOLT+ is an interesting digital hearing aid. In addition to the features of the AIR hearing aid, the VOLT+ has dual directional microphones to give you smart noise reduction. The result is that you will hear better in noisy places like restaurants and social gatherings.
If you don't like replacing batteries all the time, or your arthritic fingers just won't cooperate, the VOLT+ hearing aid is what you want. It contains a rechargeable battery that never needs replacing. Just put your hearing aids in their charger at bedtime and in the morning they will be charged up and ready to work for you all day.
What happens if the power fails for a day or two, or you are away from electricity for a few days so you can't recharge your hearing aids when they run down? Not too worry. The VOLT+ charger has a cool feature. The charger itself has a rechargeable battery in it that will recharge your hearing aids at least three times before it needs to be plugged into a wall socket again—so you're not stuck as long as you have your recharger with you.
Furthermore, the VOLT+ is the hearing aid for you if you like water sports or boating, have to be out in the rain, sweat a lot or live/work in a humid location. You'll also want this hearing aid if you work in a very dusty environment. This is because it is both dust and water resistant. It has an IP rating of 57.
IP stands for "Ingress Protection". Ingress Protection is how well your hearing aid keeps foreign "stuff" out. The first number relates to solid particles (e.g. dust). A level 5—like the VOLT+–means it is "protected against dust, limited ingress (no harmful deposits)" so working in dusty environments shouldn't be a problem. The second number is the level of protection against water (liquids). Level 7 (again like the VOLT+) means "protected against water immersion for 30 minutes at a depth of up to 1 meter [3′]". Thus you can swim and splash around in the water, and even swim underwater for half an hour without damaging this hearing aid. Just don't swim/dive underwater to a depth greater than 3 feet.
The CORE: The CORE is the most sophisticated of the MDHearingAids It has the same features as the AIR and the VOLT+ (except it is not water resistant and does not have rechargeable batteries). What it does have is a greater degree of personalized programming via your smart phone (iOS and Android) when using the MDHearing app. You only need this app to personalize your CORE hearing aids. Then, until you want to change these settings, you don't need the app anymore. When set up, the CORE uses adaptive technology to automatically switch between its 4 program settings as you move around from one environment to another. You no longer have to do that manually.
What's the Price?
You're not going to believe this. The price of these hearing aids begin below $200. The regular price of the PRO is just $199.99. The AIR is only $399.99. The VOLT+ is a very reasonable $599.99, and the top of the line CORE is just $799.99.
Buy one, get one free
Now here's a deal you're sure to love. Periodically, MDHearingAid has fantastic specials on some of their hearing aids. For example, you can save 50% on two of their most popular hearing aids in their current sale. Their popular AIR is 50% off. Where else could you get a pair of quality aids for only $399.98? And if you want the VOLT+, the price for a pair of these water resistant, rechargeable hearing aids is only $599.98. Finally, you could get their top of the line hearing aids, the CORE for just $999.99 for a pair. That's 37% off their regular price. These prices have got to be a wonderful deal if you are hard of hearing, need hearing aids, and have an anemic pocketbook! Click here to see if there is a current sale on.
In addition, with every hearing aid you get a no-obligation, 45-day risk-free trial period from the date you purchase your hearing aids, not just the standard 30 day trial most hearing aids have. This is important since it can take your brain a number of weeks (up to 90 days) to adapt to new hearing aids. This longer trial period gives your brain more time to adapt so you know whether your new hearing aids will do what you want them to do. If they don't, you have a 100% money-back guarantee within this trial period. You won't be stuck with hearing aids that don't work for you.
And to cap it all off, if you need help, you won't vainly have to try to understand foreign accents over the phone. Instead, you get free one-on-one phone support from MDHearingAid's knowledgeable, US-based customer support team. You are only a phone call or email away from help if you ever need it.
If you are ready to explore what MDHearingAid products can do for you without breaking your pocketbook, click here, or call them toll-free at (800) 781-4052.