Neil Bauman, Ph.D.
A lady asked,
I was researching an item that I found  (shown at the right) during an estate sale that has significant historical value. I was wondering if you could provide some feedback on this unique item.
The item in question was part of a framed  set of Acousticon awards.
We know this because at the bottom of the frame is an engraved brass plate inscribed "Acousticon Awards" and on the line below that, the words "For Quality of Product Since 1902" (see left).
The two medals in question are the ones mounted on a royal blue background in the upper center row. They are respectively, the obverse and the reverse of the Coronation Medal struck to commemorate the crowning of King Edward VII and Queen Alexandra of Great Britain in August, 1902.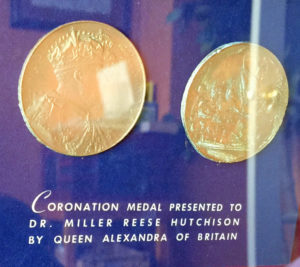 Below these medals is the inscription, "Coronation medal presented to Dr. Miller Reese Hutchison by Queen Alexandra of Britain". (See right.)
This begs the question, "Who was Miller Reese Hutchison? And what did he do that caused Queen Alexandra to present him with these medals?
Miller Reese Hutchison, who had earned a doctorate in electrical engineering and who had also studied ear anatomy, was an early inventor of electric (carbon) hearing aids. Before that, only acoustic (non-electric) ear trumpets of all kinds, were used by hard of hearing people.
Hutchison's company, the Akouphone Co. of Mobile, Alabama, was one of the first companies to design and produce the brand new electric (carbon) hearing aids way back in 1898.
The Akouphone company marketed the Akoulallion which was a carbon table model hearing aid with up to three sets of earphones. A limited number of units were sold at $400. About 1900, this instrument was completely remodeled as the Akouphone which was a portable instrument consisting of a double carbon microphone set at right angles, an earphone, and a 6 volt storage battery carried in a rubber case. This was covered by an 1899 British patent (#7063) by Wilson and Hutchison. The instrument sold for $60. (1)
After several company name changes and reorganizations, the Hutchison Acoustic Co. came out with their first practical and affordable carbon hearing aid in 1903.
What did this have to do with Queen Alexandra? The connection becomes clear when you learn that Queen Alexandra, like several members of related European royal families, was quite deaf. (2) She had great difficulty with her hearing. (3) Like these other Royals, she suffered from hereditary hearing loss  due to a middle ear condition called otosclerosis. (2)
Otosclerosis is where spongy bone forms on the three tiny bones in the middle ear—especially on the third bone in the chain—the stapes (stirrup)—thus fastening it to the oval window. When the stapes no longer vibrates freely, not much sound is conducted into the inner ear, thus leaving the person with a conductive hearing loss. Otosclerosis, which is more common in women than in men, typically first appears at puberty and then worsens with each succeeding pregnancy.
Queen Alexandra's progressive hearing loss became very noticeable in 1867 after the birth of Princess Louise, her third child. No doubt, Queen Alexandra had some mild hearing loss from before that, but it wasn't very noticeable up to that point. However, after the birth of Princess Louise, her hearing loss became so severe that it affected her social life. The "increasing degree of deafness, caused by hereditary otosclerosis, led to Alexandra's social isolation; she spent more time at home with her children and pets". (2)
Around 1900, after his second model, the Akouphone came out, Hutchison toured Europe to promote his early hearing aids. His fame spread rapidly. "Hutchison was brought on board the royal yacht, Victoria and Albert II, in the North Sea to personally fit a hearing aid to Queen Alexandria. His hearing aid was reported to have restored Queen Alexandra's hearing to within 90% of normal."  (4)
We do not have an Akouphone in the Hearing Aid Museum. In fact, I'm not aware of even one Akouphone still in existence. All we have left is this description of the Akouphone: "a portable instrument consisting of a double carbon microphone set at right angles, an earphone, and a 6-volt storage battery carried in a rubber case". (1)
The Akouphone was followed in 1903 by a "sleeked down" version that looks similar to this Acousticon Model A carbon hearing aid (see picture at left) that came out in 1905. It gives you a vague idea of what the Akouphone would have looked like—but with a double microphone rather than the single microphone that was on the Model A. The two pins on the left plugged into a large battery.
Queen Alexandra was so happy with the results, she invited Hutchison to the coronation ceremony in 1902 when her husband became King Edward VII of the United Kingdom (5) as a thank him for supplying her with one of his portable Akouphone hearing aids. (3). Hutchison was given the royal coronation medal (shown previously), a portrait of the Queen in a jewel-encrusted frame, and a generous stipend.  (4)
It was also around 1902 that Hutchison invented a strange device, originally called the Akou-Massage and later called the Massacon. The Massacon was essentially a very loud buzzer built into what looked like an earphone—all housed in an oak box.
There has been some speculation as to the exact purpose of this device. As the caption under the picture at the right explains, "It was an 'ear massaging' device….The sharp sounds produced by the Massacon were thought to promote circulation and to exercise the middle ear."
Another blurb described the Akou-Massage as a device "for the treatment of catarrhal deafness." Catarrha is basically inflammation of the mucous membranes, and in this case applied to the Eustachian tubes and middle ear. When mucous plugged the middle ear so the bones there couldn't vibrate freely, or plugged the Eustachian tubes, sounds were deadened. The result was a temporary, conductive hearing loss until the "gunk" drained out and the middle ear once more functioned normally.
Because of such descriptions and because the Massacon produced ear-damaging levels of sound, I labeled the Massacon (see picture at right) as a quack medical device in the Hearing Aid Museum.
You see, the softest level of sound the Massacon produced was an ear-splitting 120 dB—loud enough to almost instantly damage normal hearing—and the volume stepped up from there!
What could be the purpose of such an extremely loud device? It wouldn't "promote circulation", but it was certain to promote hearing loss—and very fast at that!
However, the fog begins to lift when we try to understand what Hutchison was attempting to do. Remember, at that time he was hobnobbing with deaf royals in Europe. And remember that several of them were suffering from the results of otosclerosis where the stapes becomes fixed to the oval window and thus doesn't vibrate freely.
Since Hutchison developed this device right about the time Edward VII and Alexandra were crowned, I wonder if it was her otosclerosis that he specifically was trying to fix.
It is my contention that Hutchison was trying to make a device that would vibrate the three ear bones so violently that they would break these spongy bone connections and let them vibrate freely again. This would instantly return hearing loss from this specific cause to normal or near normal again.
Since people with otosclerosis already have a significant degree of conductive hearing loss, the loud sounds from the Massacon wouldn't damage their hearing further.
I don't know whether the vibrations from this device were sufficient to break the stapes free or not. I suspect it didn't work for this purpose. Even so, far from being a quack medical device as I originally thought, I now believe the Massacon was Hutchison's sincere attempt to fix otosclerosis.
_________
(1)  Berger, Kenneth W. 1984. The Hearing Aid: Its Operation and Development. The National Hearing Aid Society. Livonia, MI. p. 233.
(2) Alexandra of Denmark. 2016. Wikipedia.  Note 34. https://en.wikipedia.org/wiki/Alexandra_of_Denmark.
(3) Senior, Kathryn. 2012. Who Was Miller Reese Hutchison?  http://www.earhelp.co.uk/who-was-miller-reese-hutchinson.html.
(4) Traynor, Robert. 2015. The Road to the First Electric Portable Hearing Aid…and Beyond. Hearing Health & Technology Matters. http://hearinghealthmatters.org/hearinginternational/2015/the-road-to-the-first-electric-portable-hearing-aid-and-beyond/. p. 4.
(5) Miller Reese Hutchison. 2016. Wikipedia. https://en.wikipedia.org/wiki/Miller_Reese_Hutchison.