by Neil Bauman, Ph.D.
Some "kids"–I kid you not–are born with small, deformed or absent external ears. The fancy medical name for this is "microtia". Microtia is composed of two Latin words—micro—small or tiny, and otia—from oto—ear. So literally, microtia is "tiny ears". If there isn't even the nub of an external ear present, the medical term is "anotia" meaning "no ear".
"Microtia is a congenital deformity affecting the outer ear (pinna) where the ear does not fully develop during the first trimester of pregnancy." (1) In humans, microtia occurs in 1 out of every 6,000 to 12,000 births. It can affect only one ear, or both ears (1) (Fig. 1).
Genetic mutations can cause microtia. So can taking certain prescription drugs. For example, taking the drug Isotretinoin (Accutane) during the first trimester of pregnancy is known to cause microtia. In my book, Ototoxic Drugs Exposed, I warn, "There is an extremely high risk that you will have a deformed child if you take Isotretinoin while you are pregnant. Your baby might be born with no external ears [anotia], tiny external ears [microtia], tiny ear canals or no ear canals at all [aural atresia]."
Doctors consider microtia a medical condition and try to repair this deformity so that children can hear properly and lead normal lives.
Microtia can also occur in various animals—both wild and domesticated.
The last time I was at the Maryland State Fair, and touring the goat section in the small animal barn, I was surprised to see some goats on display that didn't have normal ears. Since the animals on display were vying for trophies, and since microtia is considered abnormal and something to be fixed, I was flabbergasted to discover these "defective" goats on display.
I asked the goats' owner about their strange ears. She explained that goat breeders have actually developed a breed of goats that have microtia as one of their salient features. These Lamancha goats are a formally recognized breed of dairy goats. In order to be registered, they must have microtia present in both ears.
There are two forms of microtia recognized for registered Lamancha goats—"elf" ears and "gopher" ears. Compared to normal goat ears (Fig. 2), "elf" ears are much shorter—perhaps an inch or two long (Fig. 3).
Fig. 4 shows just how different these "elf" ears are compared to goats with normal external ears. Notice how abnormally small these "elf" ears are.
Fig. 5 shows a goat that has "gopher" ears—essentially no external ears at all.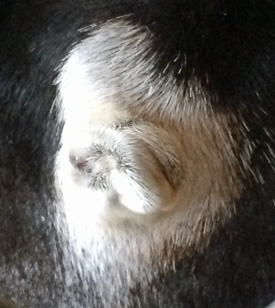 All that exists of the external pinna is a bit of cartilage covered with hair (Fig. 6).
According to the owner of these Lamancha goats, these goats have normal hearing. However, I wonder. It only stands to reason that goats with normal upright pinnae will hear softer and more distant sounds better than Lamancha goats with external "elf" or "gopher" ears.
Apart from Lamancha goats that are bred for their lack of normal ears, microtia in both wild and domestic animals is not common, although there are numbers of cats that have microtia in (usually) just one ear.
______________
(1) Microtia and Atresia.  Ear Community. http://earcommunity.com/microtiaatresia/
(2) Microtia http://pulse.seattlechildrens.org/researcher-explores-clues-to-birth-defects-on-international-scale/Microtia